<! HTML INSERT BEGIN /!><! RealPublisher -- Comment Text Created By RealProducer Web Page Wizard - 8/30/2000 -- Caution: Do not make changes to this comment section. Any local file references that appear here are automatically updated when uploaded to a remote web server. Alterations to this section or any file references listed below or contained in the associated RAM or RPM metafiles may cause errors when publishing your web page to a remote server. These values should not be altered. -- pagelayout="pop-up" -- serverpath="http://www.candlewater.com/rv1/" -- mediafile="001_FWMcCabes99_0_b2.rm" -- metafile="001_FWMcCabes99_0_b2.ram" /!>
ALL FILM CLIPS REQUIRE A REAL PLAYER TO WORK. (free below)
Look for the FREE BASIC 8 REAL PLAYER by going to this icon:


Look at the bottom of the Real Player page that this icon will take you to for the Free Version.
Below is the Free Download URL that you will find, try it first:
http://scopes.real.com/real/player/player.html?src=011204realhome_1,011204r1choice_h2,011204rpchoice_c1&dc=129128127
If at this time there are many people trying to get into this link,
and the link does not respond for you, try waiting a few
hours or a day for the internet congestion to calm down.

IMPORTANT NOTE: While watching the video, make sure that you
move your mouse once in a while to prevent your computer
from going into sleep mode.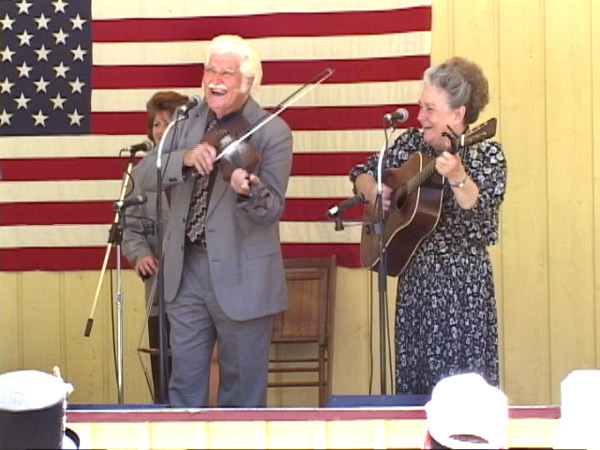 The Sullivan Family At Bean Blossom June 2001
...for a very limited time...
Presented by Special Permission
of The Sullivan Family.
The Sullivan Family
at Bean Blossom 2001
Filmed
Bean Blossom June 2001
Brown County, IN
Scroll down to view the entire page and links to video. (last updated: 12-10-2001)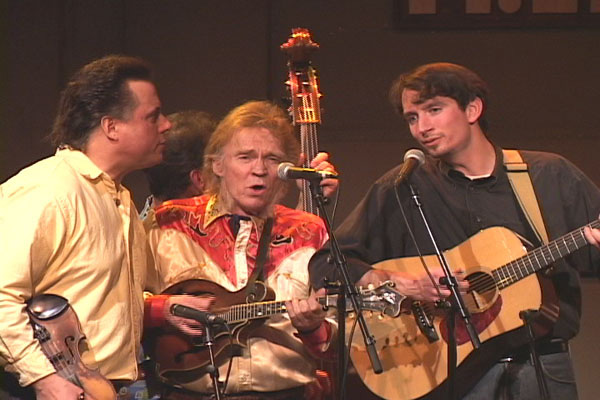 Scenes From The Adventures In Bluegrass II
Musicians
Frank Wakefield: Mandolin, Jim Moss: Fiddle, Jeff Harris: Guitar,
Graham Murphy: Banjo, Pat Campbell: Bass

The Frank Wakefield Band
Adventures In Bluegrass II

Filmed Feb. 2001
The Freight & Salvage
Berkeley, CA

Click on the links below to start the Streaming Video.

Below you will find a total of approximately 60 minutes of footage is broken up
into roughly 20 minute segments to allow for viewing from the center
without starting over each time. If you have a FAST DSL or CABLE
connection, you will see a much better picture with better sound.

ALSO AVAILABLE ON VHS TAPE
Click Here To See Package
If the Real Audio Server is having problems then
try closing the Real Player down completely from the tool bar at the bottom
of the screen, then re-click on the video links to start the real player fresh.
Includes: Bluegrass Band Number 1.
( © 1975 Frank Wakefield )
Musicians
Frank Wakefield: Mandolin
Jim Moss: Fiddle
Jeff Harris: Guitar
Graham Murphy: Banjo
Pat Campbell: Bass
Live Video Camera Person: David Winter
Produced By: Jim Moss
Video Editing: Jim Moss
Sound Mastering: Jim Moss
Streaming Media Mastering: Jim Moss
Let us know if you would like to hear an entire show. You can email us by clicking the mailbox below.



This link will try to sell you a player, but if you look around you
will find a link to a free player, use that. At the time of this
writing the free link was at the very bottom (scroll down) and on the left.
All Rights Owned by Mossware LLC.
Any reprinting of text must be approved in writing... which will not be hard to get.
Any use of this material for Bluegrass or folk radio must simply make mention of this
web page as the source. We welcome any ethical and tasteful efforts that will help
build up our audience. The exception to this is the use of the selected audio, photo and
tab files as we only have limited rights to the use of these files.