<! HTML INSERT BEGIN /!><! RealPublisher -- Comment Text Created By RealProducer Web Page Wizard - 8/30/2000 -- Caution: Do not make changes to this comment section. Any local file references that appear here are automatically updated when uploaded to a remote web server. Alterations to this section or any file references listed below or contained in the associated RAM or RPM metafiles may cause errors when publishing your web page to a remote server. These values should not be altered. -- pagelayout="pop-up" -- serverpath="http://www.candlewater.com/rv1/" -- mediafile="001_FWMcCabes99_0_b2.rm" -- metafile="001_FWMcCabes99_0_b2.ram" /!>
ALL FILM CLIPS REQUIRE A REAL PLAYER TO WORK. (free below)
Look for the FREE BASIC 8 REAL PLAYER by going to this icon:

Same 42min Film for ( 151k Slower )
The above links are for DSL, Cable, or LAN connections and is a 320 x 240 pixel picture.
Below is for a basic telephone modem and is a 160 x 120 pixel picture.

Same 42min Film for ( 56k modem speed )
Be sure to watch the last 30 minutes from McCabes
which follows the Freight & Salvage footage.
(See Frank Wakefield's February Schedule Below)
------------Scroll down to view the entire page------------

ALL FILM CLIPS REQUIRE A REAL PLAYER TO WORK. (free below)

---
Scroll down to view the entire page
This is The Frank Wakefield Band performing on their Y2K Tour
at McCabes in Santa Monica, CA. (February 25th, 2000)
To view the band live both at the Freight and Salvage and at McCabes,
visit the links above the photo that match your ISP connection speed.
For DSL or Cable use the 256kb/sec link. If this takes more than 6 minutes
to buffer before playing you might want to try the 151kb/sec connection.
If you are using a standard telephone connection with a modem you can only
use the 56k/sec link. Good luck, email me with your impressions.
Includes: Bluegrass Band Number 1.
( © 1975 Frank Wakefield )
Also Includes: Moss Creek.
( © 1999 Jim Moss )
The musicians are:
Frank Wakefield: Mandolin
David Nelson: Guitar
Jim Moss: Fiddle
Graham Murphy: Banjo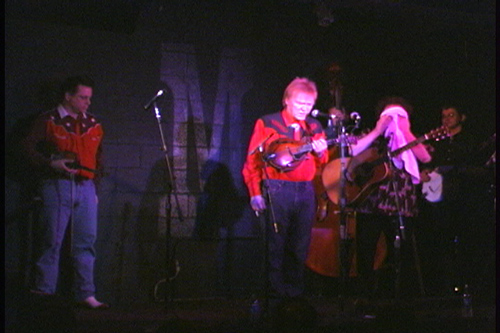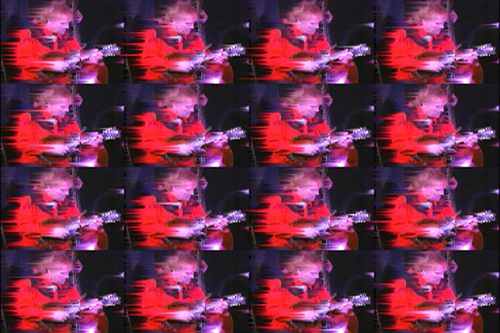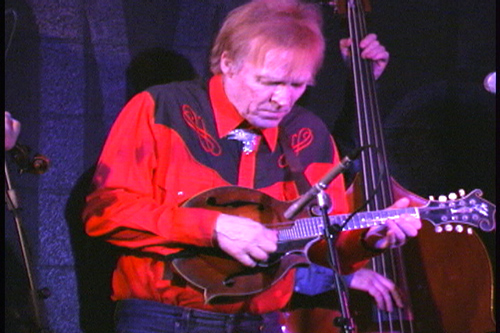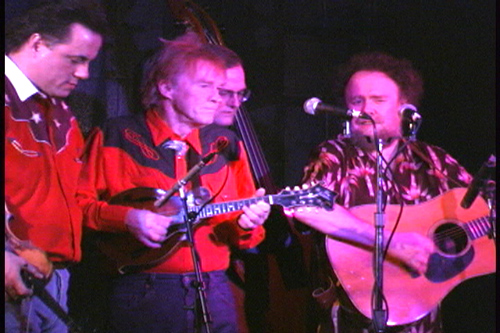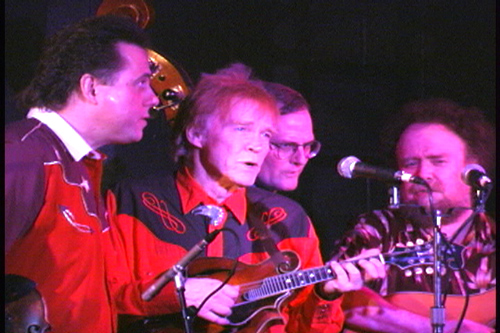 More pictures of the Freight & Salvage Show
The Frank Wakefield Y2K Tour Poster
VISIT THE OFFICIAL FRANK WAKEFIELD WEB PAGE
Live recording was made by Mike Price.
RA Mastering by Jim Moss.

All Rights Owned by Mossware LLC.